Complimentary Pickup/Delivery & Loaner Vehicles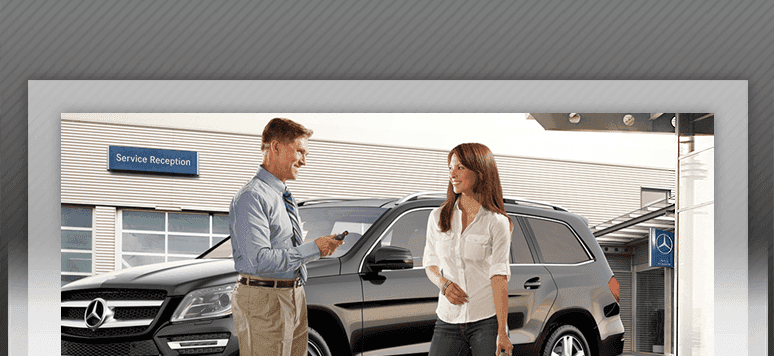 Complimentary Service Loaner Vehicle & Pickup/Drop-off Service
When you choose to drive a Mercedes-Benz, you are making the choice to own a luxury vehicle, and this comes with its own set of perks. At Mercedes-Benz of Loveland, we truly care about our clients, which is why we offer complimentary service loaner vehicles. You don't have to worry about not having transportation during maintenance or repairs because we can supply you with one. For further convenience, we even pick-up and drop off your vehicle, so you never have to leave home or your office, providing you with a trouble-free and professional experience.
How Colorado Drivers Can Schedule Complimentary Pickup and Delivery
At Mercedes-Benz of Loveland, we want to ensure that you receive the best service possible, so we encourage you to remember the following points when scheduling the complimentary pickup and delivery service as well as your loaner vehicle:
We make a commitment to customer service and do our best to find the soonest available time for your vehicle's service. Because our loaner car program is so popular, at busy times, you may need to schedule an appointment a few days in advance to ensure a vehicle is available.
Those of you who live in surrounding areas will be glad to know that our complimentary pickup and delivery service for your vehicle applies to all areas of Colorado that are in a 50 mile radius of our dealership, allowing us to assist drivers throughout Loveland and the surrounding communities.
---
Vehicle Pickup Before Noon
Unfortunately, we can't offer a precise time for pickup when setting up your appointment, but it will always be before noon. Our driver will contact you when he or she leaves the dealership, so you have enough time to prepare for arrival. Keep in mind that your vehicle will probably be gone at least overnight when making the arrangements. If the timing isn't convenient, you are more than welcome to bring your car to our dealership's service center and we'll make the necessary repairs.
---
Please Refuel The Loaner Vehicle Before You Bring It Back
Please take the time to check that your personal vehicle has sufficient fuel for the drive to and from the dealership. Our dealership covers the cost of fuel for only loaner vehicle however not the cost of associated with transporting personal vehicles. There is a charge of $15 for each one-eighth of a tank on the loaner vehicle.
---
Required Documents For Complimentary Loaner Vehicle Service
Keep in mind that to receive complimentary pickup and delivery service of your personal vehicle, you will need to provide our driver with a photocopy of a major credit card, your driver's license, and your insurance card upon his or her arrival. Be sure the name on all of these documents does match. You must also be 25 years old or older, and your current insurance policy must include coverage when driving a replacement rental. Before you receive your loaner, you will also need to sign documents indicating you agree to the terms and conditions of the loaner.
---
Additional Requirements To Keep in Mind
Please remember that if your loaner vehicle isn't returned 24 hours or less after your vehicle's service is completed, you will be charged $250 per day as a rental rate.
There are no pets or smoking allowed within loaner vehicles, and if this rule is broken, a detailing fee of $275 will be charged.